My beautiful sisters!
I FINALLY got pictures taken of the aprons I made for the bazaar! (Actually these pictures are the ones I brought home--I sold out of other patterns I had brought).
I got out TWS's light box thing. I must say that it was a bear to set up! I would have liked a LOT more light, but this will do for now :-). I would love a plexi set up where the walls of the box are actually brightly lit. Sounds like a job for Super Sweetie!
I am not trying to brag, but I REALLY love these aprons. I have two that I have kept (plus one for Precious) and they just always look nice. I can throw them in the washer and dryer with anything (no special washing) and they come out looking beautiful! I feel very pretty in them when I am cooking or scrubbing out the bathroom or whatever :-).
This is the size of the adult aprons. That is me, but I had not done my hair, so I did not let Precious take a picture of my head hee hee!
Here is Precious modeling the little girl's aprons. She is tiny, but the aprons are tinier!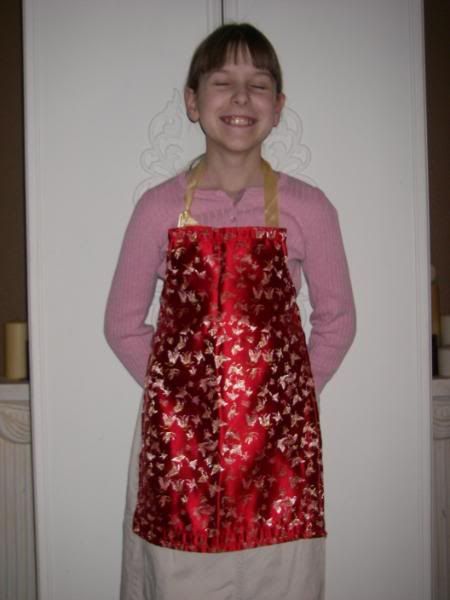 Here are some adult aprons
More adult aprons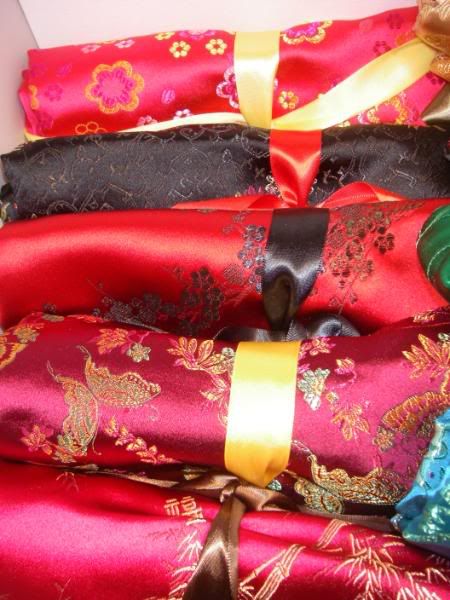 Here are the little girl aprons.
They sold very well at the bazaar. I definitely cannot complain! The hardest thing was convincing customers that these were to WEAR EVERY DAY to keep their clothing clean :-).
I am grateful to the Lord for how much ended up selling! It makes you feel good to know that people like what you have made.
I also brought soap, as my one loyal customer convinced me to. That also sold well! I will post pictures of the soap in the next entry. I sold more with the aprons and the soap than I used to with soap and other things (milk bath, bath fizzies, etc), and it was a LOT less work.
Did I tell you that Precious made earrings to sell at the bazaar? She used sculpey clay and baked it and made adorable earrings which she sold for a dollar a pair. I think she must have taken over 70 pairs to the bazaar! (She hand lettered a sign in crayon and put each pair in a little baggie and everything. She was ready for the bazaar DAYS before I was!) I praise the Lord for His kindness to her! At first she was not selling anything--just one pair--and she was SO upset. We had a talk, and I prayed that the Lord would allow her to sell more, and suddenly she was swamped! She ended up making about $40!!
Anyway, thank you for your prayers and well wishes for the bazaar! It was a blast and I kinda wish I had made more aprons and signed up for another bazaar. The season here is short. This bazaar was a great one--low table fee and pretty well visited. There are other bigger ones that I would have liked to have tried as well just for grins. Maybe next year!
God bless you my sisters in the Lord!
PS, the formatting on this post is atrocious, but I cannot figure out how to fix it! The top photo is supposed to include my other arm AND there are supposed to be spaces between the paragraphs! Sorry about that!